Save 5¢ on every gallon at RaceTrac and RaceWay for 90 days!*
Then keep saving with rebates up to 3¢/gal (RaceTrac Universal) or up to 5¢/gal (RaceTrac Elite)!*
RaceTrac Fleet Cards Keep Your Business Going

Know where the money goes
See who spends what, where and when
Capture detailed info for every purchase
Use simple online and mobile tools

Rein in employee spending
Limit use by amount, time/day, product, and more
Set spending limits by employee or card
Driver PIN authorization to curb misuse

We'll do the paperwork
Automatic fuel accounting and expense tracking
No need to collect employee fuel receipts
Easy one-click reporting
RaceTrac Elite Card

The Maximum Savings Card

RaceTrac Universal Card

For Savings and Extra Flexibility

Differences Only
Apply Now
Apply Now
The Basics
RaceTrac Elite Card
RaceTrac Universal Card
Save up to 5¢ a gallon
View Rebates
Accepted at over 750 RaceTrac and RaceWay locations
Accepted at RaceTrac and RaceWay, plus 95% of U.S. gas stations
No setup, annual or card fees
U.S. -based customer service, available 24/7
Access exclusive discounts on auto parts, hotels and more†
Visibility
RaceTrac Elite Card
RaceTrac Universal Card
Capture detailed transaction data for every purchase
Track employee spending in real time and detailed reports
Always know who spends what, where and when
Tax exemption reporting (for qualified businesses)
Create custom reports
Security and Control
RaceTrac Elite Card
RaceTrac Universal Card
Driver PIN and odometer reading entered at the pump
Control spending by card or driver
Limit fueling by time of day or days of week
Limit card use by product type, location, or dollar amount
Account Management and Accounting
RaceTrac Elite Card
RaceTrac Universal Card
24/7 online and mobile account access
Automatic fuel accounting
No need to chase down employee fuel receipts
Available online payment

RaceTrac Elite Card

The Maximum Savings Card

RaceTrac Universal Card

For Savings and Extra Flexibility

Apply Now
Apply Now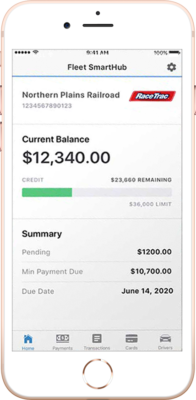 Easy mobile account access
Access your account wherever you go. Our free mobile app makes it simple.
Look up Driver IDs
View and filter transactions
Make or schedule payments
Know your available credit
Cancel lost or stolen cards
Spot potential misuse
Save on products and services for your business!
Access exclusive discounts on auto parts, tires, hotels and more. When every expense matters, RaceTrac fleet fuel cards help you get more for every dollar.†
LET'S TALK
We're ready to answer any questions you may have, whether you're ready to apply now or just gathering info. Call us at 1-855-804-1457, or send us a note below.